An app for every Star Gazer
Features 1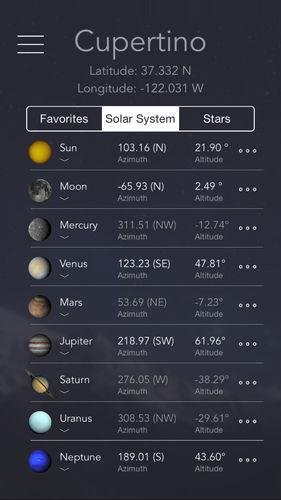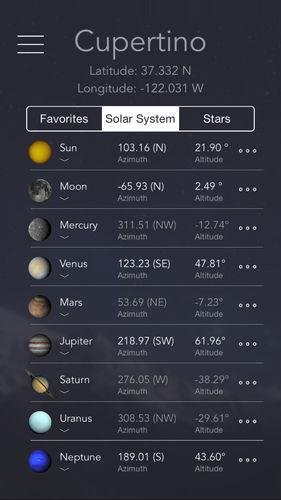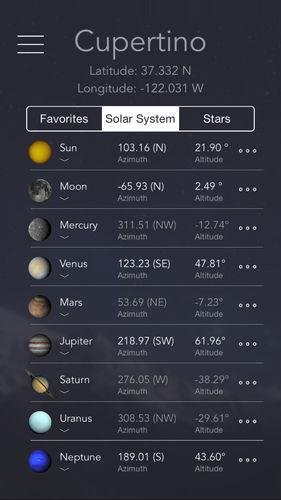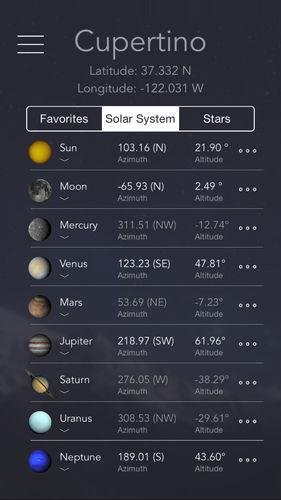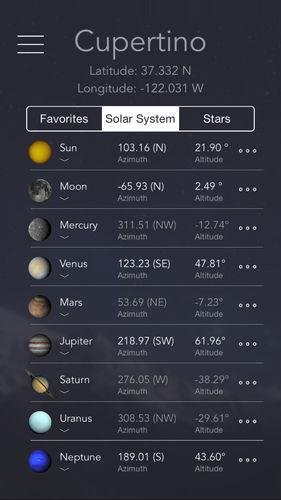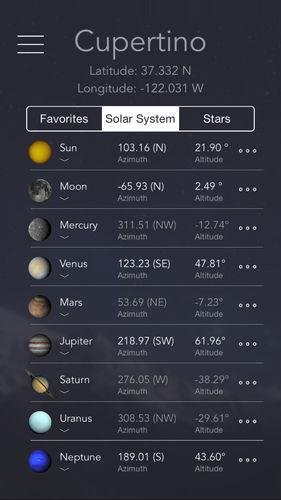 Determine the current position of all the planets
Find the current Altitude, Azimuth, Right Ascension, Declination, Rise, Transit and Set times of the planets in our Solar System
Determine the current position of all the Sun & the Moon
Learn about Moon and its current phase and illumination. Live Sky also shows you the Sun Rise and Sun Set times, including the best time for viewing the sky - time of Nadir point
Locate the 110 Brightest Stars in the Sky
Live Sky also shows the Ephemeris information for the 110 brightest stars in the Sky, including the Constellation they belong to, their Magnitude and Star type.
Physical Characteristics of Planets
Besides current Ephemeris information, learn more about the Physical characteristics of each of the planets, such as their Rotation time, Distance from the Earth, Length of Day, etc.
Latest Data from Mars Curiosity Rovers
Live Sky also shows you the latest data uploaded to NASA by the MARS Curiosity Rover, about the current climate conditions on Mars.
Add the bodies you are most frequently interested in to your Favorites!
Live Sky lets you sort all the bodies by bodies within your Solar System or Stars. But if you would like to customize your own list to load by default, just add the bodies you observe to your favorites!
Really handy for people that love to stargaze and beginners with a telescope!

Jim C
Wow, LiveSky just keeps getting better and better. Love the new layout and added features, plus the option of no ads! Helps me figure out what to view and when, love it!

Chris K
Point your iPhone at a planet, and the phone vibrates and the display illuminates to show which planet you are looking at, works a treat on iPhone 6.

Steve K.